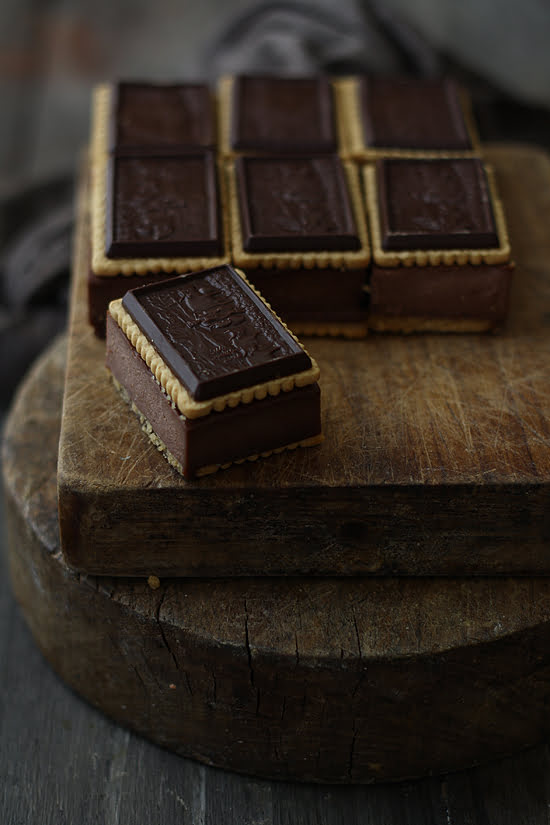 ---
{Chocolate cheesecake sandwiches}
Prep time: 15 min
Cooking time: 10 min + chilling
Serves: 8
Ingredients
16 Le Petit Ecolier cookies, homemade or storebought
250 g heavy cream
100 g cream cheese
100 g dark chocolate, 55% cocoa
50 g white chocolate
1 sachet instant curd, or curd powder (4 servings size, see notes for substitution)

Preparation

Place half the cookies, chocolate side up, in the base of a slice tin lined with non-stick baking paper and set aside
Combine curd powder and 1/4 cup of the cream in a small jug. Stir until smooth. Place remaining cream, and cheese in a sauce pan over medium-high heat, and bring to boil. Remove from the heat, add chopped chocolate, and stir until smooth. Add curd mix, bring back the saucepan over medium-low heat, and stir constantly until custard comes to the boil and thickens.
Remove from the heat, and let the cream warm, stirring from time to time.
Pour the warm cream into the tin
Top with remaining cookies, chocolate-side up, and refrigerate overnight. Slice into sandwiches to serve.
NOTES:
If you cannot find curd powder or instant curd, use 1 package (4 servings-size) custard powder, or instant custard instead
Before leaving you might want to have a look at my books (selling worldwide). If you have prepared this recipe, and want to send me a pic and your comments, please use this form . If you wish to subscribe to receive my recipes in English please do it here