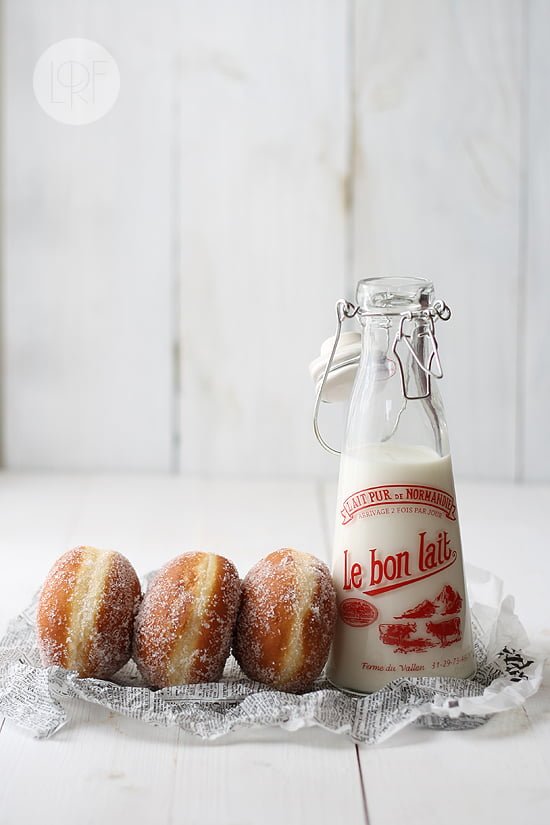 These guys are undoubtedly the best doughnuts I have ever made, and they are believed to be the best in the world. They have a Michelin star, after all. The creator of these fluffy balls of dough is Justin Gellatly, the genius behind the St John Bakery in London. If I worked in this bakery I would probably be fired on day one for eating all the stock.
So today I am going to share with you the recipe for these legendary doughnuts, as seen in The guardian (From the book The Complete Nose to Tail, Bloomsbury).
The filling I have used differs from the original one, which uses 50% custard and 50% chantilly. Also in Spain caster sugar is not easy to find, so I used white granulated sugar instead.
Doughnuts have to be eaten fresh, the same day you prepare them. If you want to keep them longer, you can freeze them (without filling) and bake for a minute or two when you want to eat them. It is not the same as fresh doughtnuts, but they are quite good too.
Enjoy. And remember that licking your computer screen might not be a good idea.
---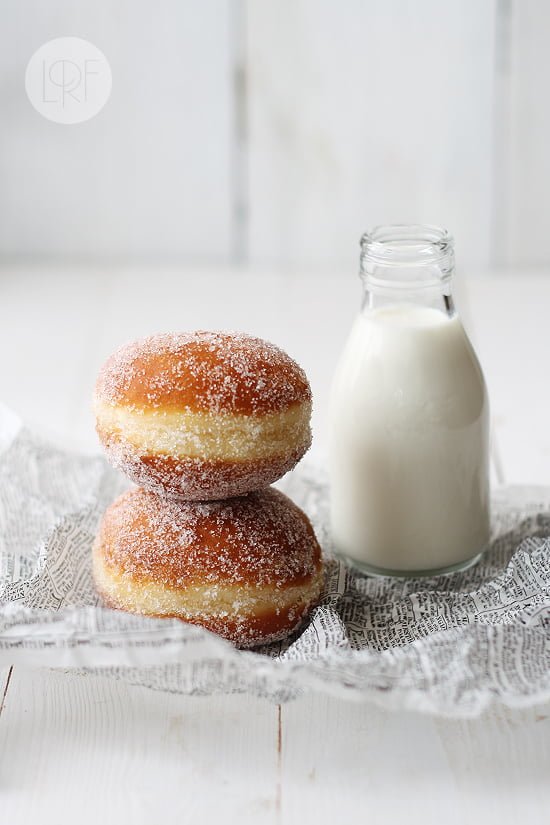 ---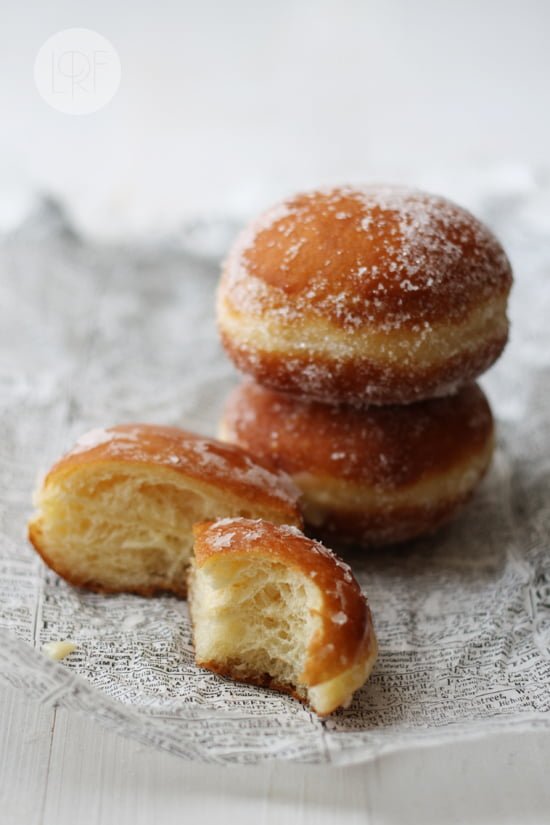 ---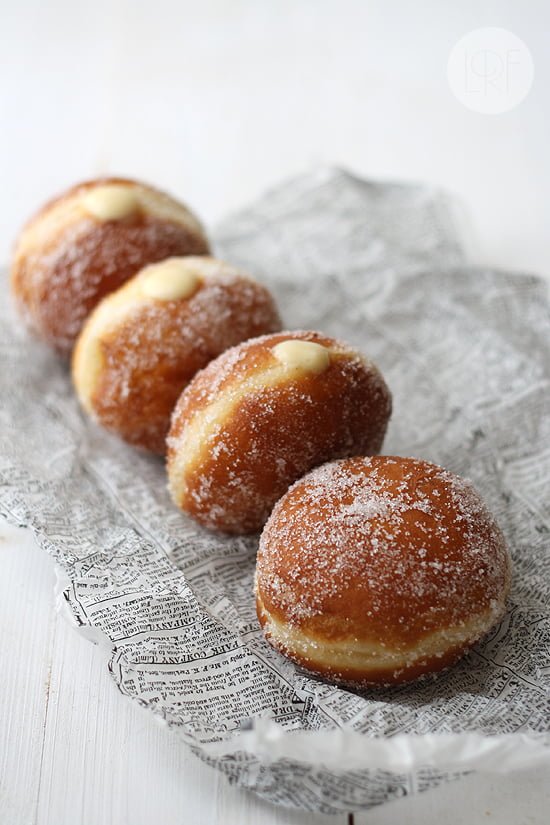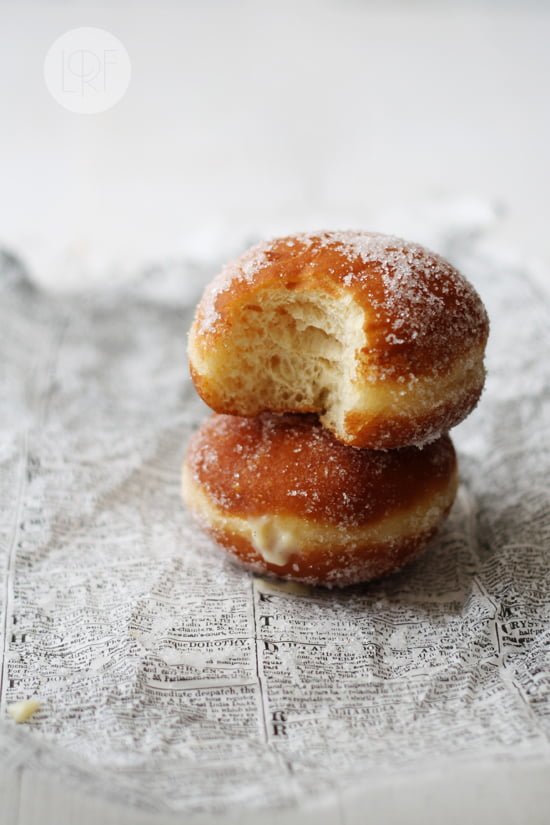 ---
{St John Bakery doughnut recipe}
Prep time: 30 min (plus resting time. The dough needs to be prepared the day before)
Cooking time: 4 min (every doughnut)
Yield: 25
Ingredients
500 g strong white flour
65 g caster sugar, plus extra for coating
10 salt
15 g fresh yeast
4 eggs
1/2 lemon grated zest
150 ml water
125 g butter, softened
sunflower oil for deep frying
Directions
Place all the ingredients except the butter and oil in the bowl of a mixer fitted with a beater. Mix on medium speed for 6 minutes, then scrape down the sides of the bowl. Mix on medium speed again, adding the butter, 20g at a time, until all is incorporated. Keep mixing for 6-8 minutes, until the dough has come away from the bowl and looks smooth, glossy and elastic.
Place the dough in a large bowl, sprinkle the surface with flour and cover bowl with a tea towel. Leave to rise for 2-3 hours in a warm place, until doubled in size, then knock back. Cover the bowl with clingfilm and place in the fridge for at least 4 hours, better overnight.
Cut the dough into 25 pieces and roll into smooth balls. Place on floured baking sheets, leaving 5cm between each one. Cover with clingfilm and leave to prove for 2-3 hours to double in size.
Half-fill a deep fat fryer or a deep, heavy-based saucepan with sunflower oil and heat it to exactly 190C. Fry the doughnuts, in batches of 3 or 4, until golden brown, about 2 minutes on each side. Check the temperature of the oil between each batch. As the doughnuts are done, place on kitchen paper to soak up excess oil, then toss in caster sugar, and let cool on a wire rack. Once cold, you can serve them right away or fill them with custard and experience true happiness
NOTES:
For the custard filling, in a saucepan bring vanilla pod, 250 ml double cream, 150 ml milk and 150 g sugar to the boil. In a different bowl mix 100 ml milk and 15 g corstarch. Beat 3 egg yolks, and mix in. Remove milk and cream from heat, remove vanilla pod, and then gradually stir in egg yolk mixture. Reduce heat to low, bring back saucepan to heat, and let thicken stirring constantly. Reserve until cold before filling the doughnuts In the original version of the recipe, custard is mixed with chantilly
If you want to buy a copy of my last book "Polos y Helados" (Spanish version) you can find it in Amazon Spain (ships worlwide), Amazon France, Amazon Italy, and Amazon Germany. I will let you know as soon as it is available in UK and US :). If you want to buy a copy of my previous book "Las recetas de la felicidad" (Spanish edition) you can order it on Amazon Spain (They ship worldwide). Also to be found in Amazon France, Amazon Germany, Amazon Italy, Amazon USA and Amazon UK
If you have prepared this recipe, and want to send me a pic and your comments, please use this form . If you wish to subscribe to receive my recipes in English please do it here