When I was writing this post last Sunday, my son George (5 years old) approached. He threw his arms around my neck and whispered in my ear: "Will you marry me?". And then he put a plastic ring from a bottle in my hand.
At snack time, I put a chocolate donut on his finger and said, "I love you as a son." As you see, we are two romantics … Anyway, then I had to talk to him because it is not the first time he tells me he is going to marry me, and I had to explain him that it is not possible. I told him that he has to look for a person whom he loves a lot, a person that makes him happy, a person who makes him laugh, … So now he has decided he is going to marry his friend Mateo. I'm sure one of these days when I go to pick him up at school, Mateo will come out wearing a brand new plastic ring on the finger.
To Bea Roque I would propose with a chocolate donut or whatever it takes. I've known her since I started the blog (she opened her blog before me), and she was already a reference in the blogosphere. In person we have just met a couple of times, but when you have been following a blogger for so many years, at the end you have to love her. From Bea I love her sense of humor, frankness, and gastronomically speaking, the infallibility of her recipes. So when I wanted to try a new recipe for pie doughy, I ran to her latest book "Delicias para compartir".
For today's recipe, I'll give you two versions. A "fast" one for beginners, which is made with storebought dough, and another one "not so fast" but much more delicious with homemade dough and sauteed apples. Also there are two filling options: one with egg, which a typical cheesecake texture, and the other one without egg, resulting in a more creamy filling.
I will definitely stay with the less rapid version, with homemade dough from Bea's book, sauteed apple and creamy filling. In case you are wondering, I used this stencil to decorate the pie.
---
---
{Apple cheese pie. "Fast" version}
Prep time: 10 min
Cooking time: 30 min
Yield: 20 cm (8 inches) pie
Ingredients
Dough:

2 sheets storebought pie dough

Decoration (optional):

1 egg white
10 g powdered cinnamon
30 g flour
30 g icing sugar
30 g butter, soft
stencil of your choice

Filling:

4-5 apples
2 tbs brown sugar
1 egg
250 g cream cheese
75 g sugar
1 tsp vanilla paste
Directions:
Start preparing the decorative paste for the pie dough, in case you intend to use it. Mix all ingredients together, and set aside.
Peel and chop apples, mix with brown sugar, and set aside. In another bowl mix cream cheese, sugar, vanilla and egg. Reserve
Now, prepare your pie crust. Carefully place one sheet of pie dough onto a 8-inch (20 cm) pie plate. Gently press the pie dough down. Distribute apples evenly on the pie dough. Then add cream cheese and smooth the surface. Brush dough edges with water.
Roll out second disk of dough. Place your stencil firmly on the dough, pour 1 tbs cinnamon paste over the stencil and using an offset palette knife, distribute this paste over stencil thinly, but making sure all gaps are well covered. Finally, lightly scrape the excess chocolate paste off the stencil, and carefully remove the stencil from your pie crust.Gently place the decorated pie crust onto the top of the filling in the pie. Pinch top and bottom of dough rounds firmly together. Trim excess dough with kitchen scissors and flute edges using your forefingers (or press with a fork). Place in the freezer for 15 minutes, whilst preheating oven to 350 ºF.
Bake for 30 minutes. Serve warm or cold
---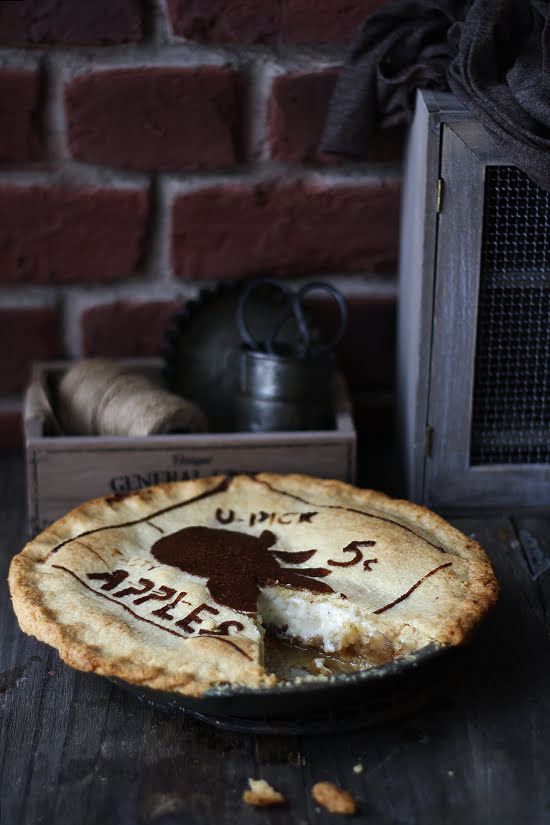 ---
{Apple cheese pie. "Not so fast but better" version}
Prep time: 20 min
Cooking time: 30 min
Yield: 8 inches pie (20 cm)
Ingredients
Pie dough (after the book Delicias para compartir by Bea Roque):

350 g flour
250 g butter, very cold and cut into squares
1 tsp salt
1 tsp sugar
75 ml water

Decoration (optional):

1 egg white
10 g powdered cinnamon
30 g flour
30 g icing sugar
30 g butter, soft

Filling:

4-5 apples
2 tbs brown sugar
20 g butter
250 g cream cheese
75 g sugar
1 tsp vanilla paste
Directions:
Start preparing the decorative paste for the pie dough, in case you intend to use it. Mix all ingredients together, and set aside.
Peel and chop apples, mix with brown sugar, and cook in a saucepan with butter for a couple of minutes (you can microwave them as well). Set aside. In another bowl mix cream cheese, sugar, and vanilla. Reserve
Now, prepare your pie crust. Combine the flour, sugar and salt in a large bowl. Using your finger tips, cut the butter into the dry ingredients until it is in pea-size pieces. Pour in 75 ml cold water and mix just until the dough comes together. Divide the dough in two, shape each portion into a flat disk, cover it in plastic wrap, and refrigerate for at least 30 minutes. Remove one crust disk from the refrigerator. Roll out with a rolling pin on a lightly floured surface to a circle; about 0,5 cm thick. As you roll out the dough, check if the dough is sticking to the surface below. If necessary, add a few sprinkles of flour under the dough to keep the dough from sticking. Carefully place one sheet of pie dough onto a 8-inch (20 cm) pie plate. Gently press the pie dough down. Distribute apples evenly on the pie dough. Then add cream cheese and smooth the surface. Brush dough edges with water.
Roll out second disk of dough. Place your stencil firmly on the dough, pour 1 tbs cinnamon paste over the stencil and using an offset palette knife, distribute this paste over stencil thinly, but making sure all gaps are well covered. Finally, lightly scrape the excess chocolate paste off the stencil, and carefully remove the stencil from your pie crust.Gently place the decorated pie crust onto the top of the filling in the pie. Pinch top and bottom of dough rounds firmly together. Trim excess dough with kitchen scissors and flute edges using your forefingers (or press with a fork). Place in the freezer for 15 minutes, whilst preheating oven to 350 ºF.
Bake for 30 minutes. Serve warm or cold